Every now and then, I find weird religious artwork on the internet. So, I am starting a new series to discuss the meaning of the bizare imaginings that are ispired by dogma.
Here we have a depiction of the Holy Trinity as portrayed by
Fridolin Leiber
, entitled
Holy Trinity
.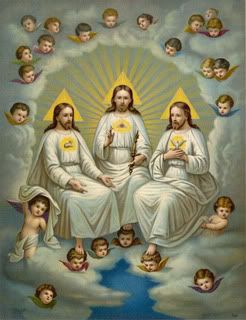 Every person of the trinity looks like (the popular depiction of) Jesus, angels are depicted as flying heads, and The Jesi are standing on the flying heads. Weird!