I found this T-shirt for sale on the internet.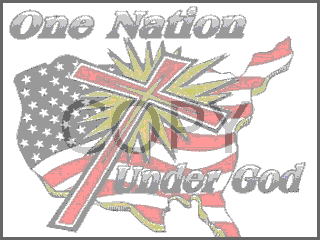 Click image to follow link.
Really, it's not that remarkable. I could imagine my brother or dad wearing this shirt (or any of the other shirts on that page). While I consider the phrase to be intolerant, I wouldn't think that seeing someone wearing it to be very unusual. As a matter of fact, I've seen lot's of people wear shirts and paste bumber stickers on their cars just like this.
Ok, so why am I writing about it? You must be asking.
Well, it so happens that this T-shirt is for sale by
The Christian Revival Center
, which is pastored by none other than
Thomas Robb
. Also, so happens that he is the leader of the KKK group that organizes around my old hometown of Harrison, Arkansas.
I guess my point is that all the rhetoric about "under God" and "in God we trust" is also being associated with white supremacy and the
Chistian Identity
movement.
I know that not everyone that wears this kind of message is going to be a hate-monger. But, the hate-mongers are co-opting the same slogans as fundamentalists and using the guise of patriotism to spread their very unamerican ideals. Where are the fundamentalist christians speaking out about this unfair association?
I also find it totally ironic that the group that sells this shirt promotes socialism and fascism. The very things that fundamentalists accuse atheists of promoting. Christians, beware! The lion is now in your den, not mine.