Last week my wife passed her
NCLEX-RN
test. So, we went on a short trip to
Eureka Springs
this weekend to celebrate.
We saw some cool sites. The first stop we took was at
Turpentine Creek Big Cat Refuge
. We had a blast. Seeing big cats up close was quite exciting. We got some pictures and a short movie.
Next we had some good eats, then stayed the night in a nice room with a jacuzzi. The next morning (sunday), I went to church. Gasp!, I know, but it was a
Unitarian Universalist
church. The only one within a hundred miles. Judy is looking for a congregation that won't shove creationism and other dogma down her throat. We might go back next sunday. The people were super duper nice. I didn't get pictures of the church. Sorry.
Well, our last stop in Eureka Springs was
The Christ of the Ozarks
.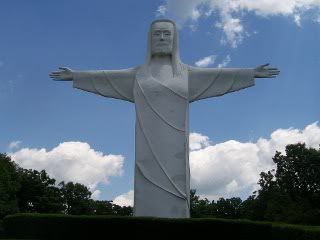 The statue is one of the
100 tallest statues
in the world (I don't know which number). Seems that this statue gets thousands of evangelical christian visitors every year. It is an impressive statue. There's a plaque that credits the people who built it. However, nowhere is there any info on the
minister who paid for this project
(other than his name). For good reason.
Look at that square jaw and the low cheek bones and the high forehead. If it was painted, I bet the eyes would be blue. Jesus is very white in this depiction. More that that, Jesus looks very
nordic
in this depiction. That could as easily be the face of Odin or Thor. Why do you think that Jesus was depicted in this way? I know why.
Because,
Gerald L. K. Smith
was a white supremecist. Thousands of christians of all races come to visit this statue thinking what a great symbol of American christianity it is. All along, they're paying homage to a man who preached that the holocaust was a Jewish conspiracy and championed the idea of sending every black citizen to africa. Nice fellow this Smith was. An example of a fine upstanding christian he was.
Do you want to know what the best thing I saw on the trip to the statue was?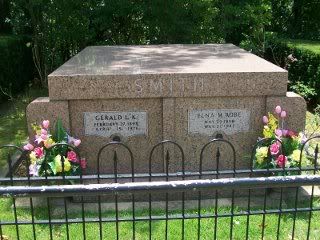 May he rest in peace and may we have the peace in the world that he would have opposed if he was still alive.