The NCAA has now banned the silly scripture references that Tim Tebow would write in his eye black. I guess it's just as well, but I have a few remarks.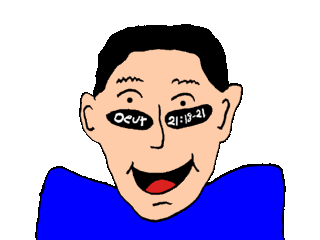 First, just because it's in the bible, doesn't mean that you would want your children to read it. There are horrible verses in the bible that depict rape, murder, genocide, human sacrifice, etc. Some of it is actually written as if God is commanding these horrible things to be done. Not all of it is in the Old Testament either. Read Revelation.
Secondly, it is just a name and some numbers. If you think you are going to convert someone by displaying a reference, you are deluded. People who are ignorant of the Bible are not going to look up the reference. One reference is as good as another to someone who is not a practicing christian. It would be much more effective to display the text of the bible verse. Of course,
John 11:35
is the only verse short enough to put on your eye black and it's not very appropriate for that.
Lastly, there is a verse in the bible that can be interpreted to be against this kind of display.
Ye shall not make any cuttings in your flesh for the dead, nor print any marks upon you: I am the LORD. Leviticus 19:28
Most people interpret it as meaning tatoos, but it says nothing about the marks being permanent.
Well, I'm sure that they'll find other ways to display an arbitrary name and number. At least, we're not going to be treated to the freaky looking eye-black spectacle, anymore. At least not in the NCAA.
This article is mirrored
here
.