Here's an e-mail that was sent to me the other day, by a dear friend of mine.
Keep your feet OFF the White House furniture (which belongs to the people)!


Does this photo of President Obama in the Oval Office convey anything to you about his attitude?

Would you speak with the Chief of Staff, your Chief Economic Adviser, and your Senior Adviser with your feet up on the Resolute Desk - a gift from Queen Victoria to President Rutherford B. Hayes in 1880?

This arrogant, immature & self-centered man has no sense of honor, or of simple decency.

While this posture is disrespectful in any culture, it is absolutely never done in any executive setting.

Further, in over half of the cultures of the world, it is recognized not only as disrespectful, but as an extreme insult.

He thinks of himself as a king -- and not as a servant of the people, humbly occupying our White House for his term in office.

Electing him was an enormous mistake -- and will cost us in many ways, for generations.
Wow! That's alot to get from someone resting their feet on a desk (even if it is a priceless desk). I'm just not that impressed with the original author's indignation. Really, Obama's not the anti-christ for resting his feet on a desk. I think that the closet racists* in our country are just looking for any little thing to criticize our president for.
You know, if I was president, I'd probably put my feet on the desk as well. Oh heck! I don't have to be president to do that!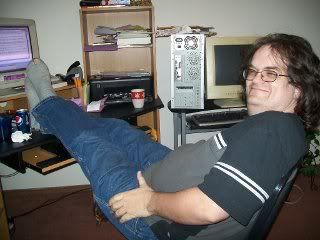 Sue me!
Note:Hole in sock
* The friend that sent this is not a racist in any way. She may have just sent it to me because she'd know what reaction it'd get from me.