Here's a sign that is posted outside of a local business.
I took it at night becaue I wanted to write this article before it gets taken down. I had to bump up the brightness and contrast.
If I get a chance to take a photo in the day, I'll post that as well. Despite the photo being very low quality, it is quite readable. I guess that's what counts.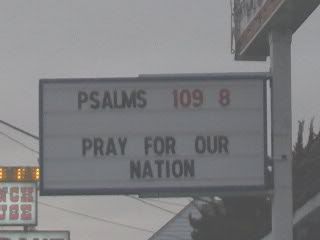 Let his days be few; and let another take his office.
Psalms 109:8
A sign that suggests prayer for my country, with a scripture reference, seems pretty harmless at first. That is, until you look up the verse. These people really are praying that our president dies so that Biden can take over his office. In my opinion this is hate speech. I'm very sure (though I have no proof) that it's because our president is black.
The traditional credit for writing this verse goes to King David. The same man who wrote the anti-atheist verse,
Pslams 14:1
. Do people really want to take advice from a man
who had his best friend killed so that he can screw his wife
? Do people really want to take advice from a man
who chose to have 70,000 of his people die instead of himself being exiled
?
Note: As far as I know, The Ranch House Cafe is not affiliated with the business that put up the hateful sign. So, please don't send them any complaints.
Note: CafePress removed t-shirts with this inscrpition on them.
Edit: I took a better picture of the sign, so I replaced the night time one with a better, yet still low quality, day time picture. This time I had permission to take the picture. If you still want to see the crappy night time pic, click
here
and
here
.