If you are too chicken s*** to talk to people face to face, you can drop these cards on their cars and run for cover.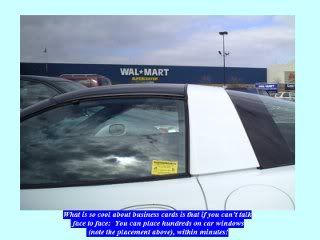 Click here
, about half way down page.
PDF of business card
.
Caption: What is so cool about business cards is that if you can't talk face to face: You can place hundreds on car windows (note the placement above), within minutes!
I really dislike stealth proselytizing. It's not unusual for me to be at home all day on a weekend to go out the front door to find a tract stuck in the storm door or a bag of tracts hanging on the door knob. If they want to invite me to their church, they should ring my doorbell and talk to me in person. If they can't handle talking to someone then they need to move on, because I'm not interested in being the victim of an evangelical hit and run.