Ken Ham at his blog
is still complaining about the visit of almost 300 atheists to his so called museum. His biggest complaint seems to be that some adults took pictures on top of the infamous saddled dinosaur. Sure there was a sign that said 12 years or younger, but I doubt that the fiberglass dino was harmed at all. If they had damaged the precious toy, I'm sure Ken would have mentioned it. Talk about pettiness.
The other complaint was that the atheist's cars had *gasp* bumper stickers on them. He has a picture of them.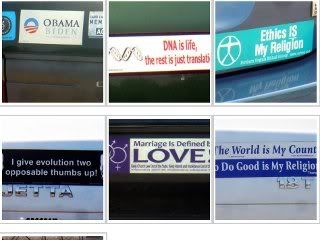 If these are the worst bumper stickers Ken Ham can find on an atheists car, he's not looking hard enough. Here's what they say. (There was a lisence plate that said, "NO GODS" that I left out.)
Obama-Biden
DNA is life, the rest is translation.
Ethics IS My Religion
I give evolution two opposable thumbs up!
Marriage Is Defined by LOVE!
The World is My Country. To Do Good is My Religion.
I guess Ken Ham is against our president, against having ethics, against doing good, against marrying for love, and denies that DNA is the code of life. The truth comes out.
Also see
P.Z. Myers take on it
.
Also see the new
Whitebird's Law
in the comments.