My wife brought a coloring book home for our niece. In it was a
page featuring a pair of square dancers
. The page explains that the square dance is the state folk dance of Arkansas. I bet half the sates in the union have the square dance as the state folk dance. No matter. I thought that maybe the true state folk dance should be the Bible Dance. Here's my new character praising a local church for it's powers of observation.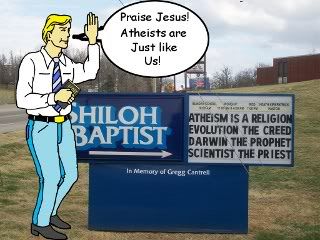 I know. I need to get a life.
Disclaimer: There was absolutely no copyright information on the coloring book!