Over at
BruceDroppings
I was directed to a
12 question quiz
about recent scientific discoveries. I got all 12 questions right.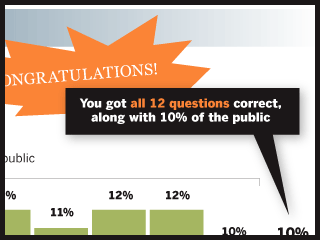 Take The Quiz
I'm not real proud because the questions were mind-numbingly easy. Anyone with a little education should be able to answer every one of them correctly. It's stuff you hear in the media and stuff you learn at school.
I am a bit disturbed that the age group that did pretty bad was the one right out of high school.